Our Blog
Our thoughts, views and everthing else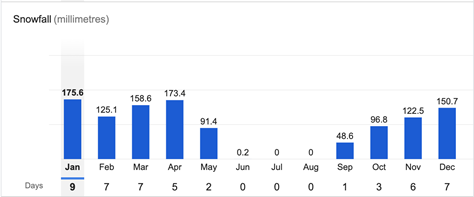 Blog: How Much Should I Water My Lawn in Calgary? [Spring, Summer and Fall]
Best watering practices should always be specific to the region you are living in. If you are living in the Calgary, Alberta region, you have found the best resource to figure out why, and how to water your lawn!
The reason watering is specific to the region is because the turf grass that makes up your lawn is likely a cool-season grass, which is resistant to Calgary's long, harsh and cold winters. Additionally, most soils in Calgary are clay-based and slightly more alkaline in pH, meaning that the turf is more resistant to periods of drought.
Proper watering is crucial, as hydrated soils can decrease insect and weed infestations, ultimately contributing to your goals for a healthier, thicker and weed-free lawn.
Throughout this article, we will cover the basics you need to know to water your lawn throughout the seasons. Including:
How to water your lawn in the Spring (April-June)

How to water your lawn in the Summer (July-August)

How to water your lawn in the Fall (September-October)'

Top 7 best practices when watering your lawn
Ready? Let's dive in.
How to water your lawn in the spring season (April to June)
One perk to the long winters in Calgary? You may be able to hold off just a bit longer on watering your lawn compared to other, warmer regions during the spring season. As Calgary soils are more clay-based, they are able to hold onto a sufficient amount of water, as well as rely on the remaining melting snow to meet their water needs.
Once the snow is completely melted, it's time to begin monitoring your lawn for signs that it requires watering. Remember to always check the weather forecast to avoid watering when rain or snowfall is expected to fall, which is common during the springtime months in Calgary.
Try using the following check-list to ensure that it is time for your lawn to start watering:
Minimum of 1 week with no snow present and temperature above freezing

No or minimal residual moisture from melted snow

Dormant, brown, dry grass begins to emerge

Grass fails to spring back after being stepped on
Once these signs are present, you can begin watering your lawn. The rule of thumb is to water your lawn 1-2 times per week with one inch of water per week.
One trick to measure the amount of water is by placing an empty can (could be soup can, upside down frisbee) on your lawn before watering. Once the can fills up all the way (1 inch) you will have applied sufficient water for the week.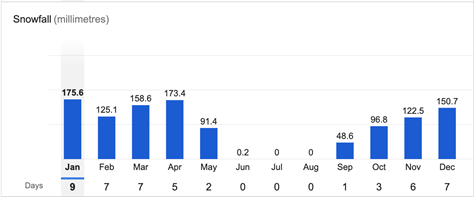 It's important to note that during this season, rainfall and sporadic snowfalls are frequent in Calgary. This means that it is unlikely that you will be watering your lawn each week in the case of these common weather events. However, once temperatures stabilize and your grass begins to show the signs of needing water you will be ready to jump into action.
How to water your lawn in the hot, summer season (July-August)
While Calgary is known for it's sunny summer weather, average temperatures reach just above tepid conditions for most of the summer. At an average daily high of 23 and 22 degrees Celsius in July and August, respectively, watering schedules for Calgary homeowners will stay relatively consistent unless there is a week of soaring temperatures.
Under regular summer weather conditions (20-25 degrees Celsius), continue to water your lawn 1-2 times per week with ½-1 inch of water.
However, under heat waves and weeks of consistent, hot temperatures (>25 degrees celsius) increase the monitoring of your lawn to watch out for signs of drought. If you notice any of the following signs, increase the frequency of your watering:
Dormant, dull and frail looking brown or green grass

Grass fails to bounce back after being stepped on

Grass feels significantly warmer in the evening
It is important to note that it is normal for growth of turf grass to slow down during the hot summer months. In fact, your grass may appear slightly yellow or brown despite an adequate water supply. Once cooler temperatures emerge and the heat breaks, your lawn should bounce back to pre-heat wave greenness.
Always make sure to respect local water bans. Turf grass will be able to survive periodic droughts with little to no water.
How to water your lawn in the fall (September to October)
Starting at the end of August, decrease the frequency of watering to a maximum of once per week or bi-weekly, depending on the needs of your lawn during the summer. As the temperature cools down, your lawn will begin to retain more water as less is lost to evaporation from the hot summer sun.
The rule of thumb is to continue watering your lawn once the days start to become shorter, and just before the first snowfall. This typically occurs in late September to early October. During this time, you can also mow your lawn at a higher height, which will help protect it from moisture loss and prepare it to enter the dormancy stage.
Now that you know the details of how and when to water your lawn across the seasons in Calgary, we recommend to put it all together with these 7 handy tips:
1. Water in the morning (dawn to 10am) to avoid water loss to evaporation
Watering in the morning is a best practice when it comes to maintaining a healthy lawn and saving money on your water bill. If you water during the daytime, it is estimated that at least 25% of the water is lost to heat from the summer sun.
2. Always allow the surface of your soil to completely dry out before re-watering
To drive home the guidelines discussed above, the best time to water your soil is when your grass is showing a few signs that it needs watering. Once you figure out the timeline of your lawn, you can predict when it will need watering next.
One indicator is to ensure that the surface of your soil is completely dry before watering again. This is typically 3-6 days depending on the temperature and previous rainfall. As it is possible to overwater your lawn and run-up your water bill, always start with less and only increase watering if your lawn is brown or dormant, or fails to spring back when stepped on.
3. Adjust water around trees and shaded areas
Turf grass that surrounds large trees may require more water as the extensive root systems of trees can absorb the water from the soil quicker, leaving less for your lawn. Try watering an additional ⅛-¼ inch of water around these areas, and increase if you notice signs of dryness.
In consistently shaded areas, such as those under shrubs or under play structures, decks require less water as the shade will keep temperatures cool and lose less water to evaporation. Water these areas sporadically, and only as needed.
4. Do not water new sod at night
Always follow the manufacturers guidelines when caring for new sod. One rule of thumbs is to avoid watering at night as it can make the new seedlings more susceptible to disease and fungi that can damage and even reject the ability of the new sod to establish itself.
5. Never water your lawn on windy days
While it may seem insignificant, wind can be detrimental on watering bills as nearly all water will be lost to wind and very minimal amounts will be absorbed into the soil. Always check the weather forecast and skip watering on windy days.
6. Consider installing a rain detector and automatic sprinkler system
In Calgary, average water bills increase as much as 30-40% during the spring and summer months due to lawn watering. It may be worth your time to invest in an automatic sprinkler system and a rain detector.
An automatic sprinkler system can be set up to the precise amount of water and frequency of watering for your lawn, and will automatically turn on and off. Coupled with this is often rain detectors, that will shut off the sprinkler system and adjust for the rain collected during the rain fall.
7. Avoid watering straight from the hose
Watering straight from the hose risks running up your water bill, and potentially introducing disease to your lawn as bacteria and fungi is occasionally found in the hose. Using a controlled nozzle or a sprinkler will avoid excess use of water, distribute water evenly and even filter out certain bacteria and fungi.
Now that we have gone over all the things you need to know to take care of the watering this season, let us take care of the weed-control, fertilization and aeration part of your lawn. Each component is essential in ensuring that your lawn is beautiful, thick, healthy and weed-free ... all season lawn.
Hi, I'm Victor Carpay
Victor is an up and coming business man. He specializes in lawn care sales and marketing in Calgary. He loves sports and ping pong.
Popular Posts
Blog: 3 New Modern Landscape Ideas That You Didn't Know About [+ Where To Buy Them]

Blog: How Much Should I Water My Lawn in Calgary? [Spring, Summer and Fall]

Best watering practices should always be specific to the region you are living in. If you are living in the Calgary, Alberta region, you have..

Blog: How To Get Rid of Grassy Weeds in Canada [Tips That Actually Work]

Have you ever mowed your lawn and then look back a couple days later only to notice that some grass appears to grow faster than the rest of the..

Blog: Yard Dawgs Lawn Care vs. The Competitors [An Unbias Comparison]

These days, everyone says they have the best customer service, unmatched quality of work, and focus entirely on the customer. Nowadays, this..

Blog: How Do The Big 5 Lawn Care Companies Compare in Calgary?

Every year when spring rolls around, thousands of Calgarians need to find a provider to take care of their lawns. We estimate that over 75,000..