Our Blog
Our thoughts, views and everthing else

Blog: Yard Dawgs Lawn Care vs. The Competitors [An Unbias Comparison]
These days, everyone says they have the best customer service, unmatched quality of work, and focus entirely on the customer. Nowadays, this doesn't make you special, it keeps your lights on because obviously a company with poor customer service, workmanship, and neglects the customer do not last in business very long. With the competitive landscape out there, companies need to be different and strive to be the best in order to survive and thrive. In Calgary, our spring comes ­at an unpredicted time. There has been years where your snow was melted by March 31st, while other years we had to wait until May 5th before we could tend to yard work. This can make planning difficult! It becomes even more of a challenge when you're coordinating with several companies to see which one is the best fit for fulfilling your needs. I'm going to be writing today about lawn care companies available in Calgary. There are dozens of options to choose from whether you're going for an international brand, a national chain, a local small business or a casual hire. I'll be comparing several big name companies to our Calgary founded lawn care company, Yard Dawgs, and I'll highlight some key differences that stand out!

Full disclosure: I'm an owner of Yard Dawgs Lawn Care
Naturally, I'm in business to see Yard Dawgs succeed. However, I'm going to take an objective approach with each comparison and focus entirely on the facts. This article isn't a matter of my opinion nor is it to determine which Calgary lawn care company in the "best". Rather, this piece of content has been created to help educate you on your options so that if you're ever considering the services of Yard Dawgs, you have a comparison of the different competitors all in one place. We're confident we're the right choice in many cases, but I am also certain of this: We aren't the right company for everyone.
You may or may not be looking for our company, and that's 100% okay! This blog is to help you determine this before you make a purchasing decision so that you can have more confidence going into the sale.
Attributes we will compare:
1. Average price per service (Assuming a 1000 square foot lawn)
2. Years in business
3. Google Reviews
4. Summer hours of operation
5. Website Impression (Is modern or outdated? Easy to difficult to navigate?)
Let's dive right in! As a reminder, we won't be going into which company we think is "better" than the other. For now, we just want to present the facts of each company so that you can have more good information to help you along your lawn care Calgary buying journey!
Checkout our full hiring guide, with tips and tricks to hire any company for any service industry here.
Yard Dawgs vs. Green Drop
Each of their packages includes 5 applications of fertilizer which includes weed control with each application. You'll notice right away that this is more applications of fertilizer than any of the other companies because they use liquid fertilizer. Liquid fertilizer is often a quicker release, short lasting blend; it's great for greening up quick but needs constant reapplications to stay effective. Yard Dawgs sticks with granular fertilizer for the controlled release benefits. Additional weed control applications are free and must be requested. Based on their packages, the lawn aeration must be done with a custom overseed and they cannot be separated.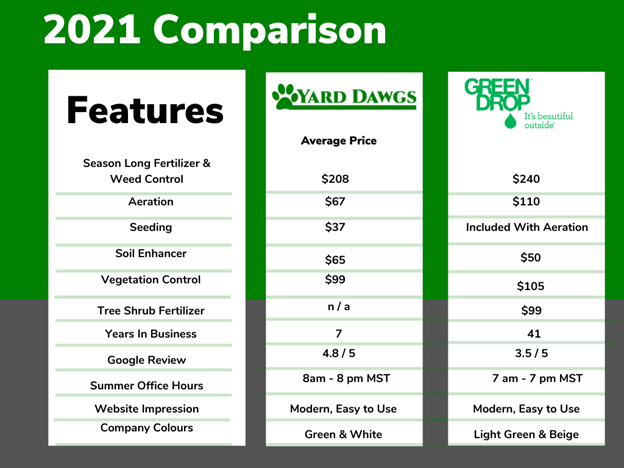 Yard Dawgs vs. Weed Man
The biggest company in this comparison belongs to Weed Man International. They are a franchise with over 250 branches and have a very established footprint in Canada and the USA. Their Calgary packages are quite simple: one basic program for fertilizer and weed control, and an enhanced program to include aeration services. They offer seeding and a soil enhancer upon request in addition to their packages. Their fertilizer program is granular and consists of 3 applications with weed spraying as needed with each service. They offer slit seeding services while Yard Dawgs does overseeding. Slit seeding has a higher germination rate than overseeding, but is significantly more expensive.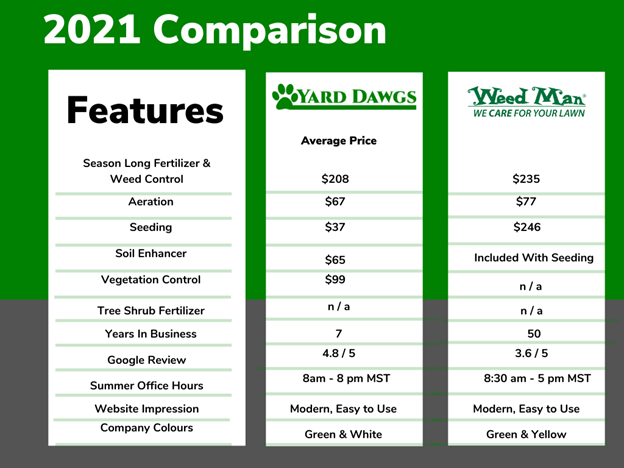 Yard Dawgs vs. Nutri Lawn
Nutrilawn is a strong lawn care company that has been serving the Calgary area for over 25 years. They are originally from Manitoba and you'll notice their white trucks driving around with big "We Nourish Lawns and Lives" decals. Their company colours utilize blue and green while Yard Dawgs sticks primarily with green and white. Their packages keep aerating and overseeding together and you must purchased the lush program to take advantage of them. The biggest difference between Nutrilawn and Yard Dawgs are that they offer "Fiesta" weed control which is a more eco friendly option versus traditional herbicides. This weed control although effective, is more expensive and must be done more often.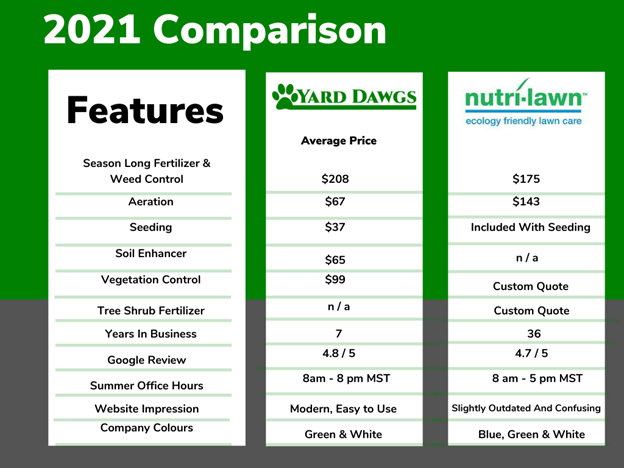 Yard Dawgs vs. Dr. Green
Dr. Green is a lawn care company which 5 locations total found in Alberta, Ontario, Illinois and Texas. Their website is straight forward and lays out their offerings quite simply. They have been in the industry for over 30 years. Yard Dawgs is a much younger company than Dr. Green. Yard Dawgs offers some services Dr. Green doesn't provide such as vegetation control and soil enhancers, however Dr. Green provides Tree and Shrub fertilizer which isn't something carried by Yard Dawgs. Currently as of 2021, Yard Dawgs only operations in Calgary, Airdrie and Chestermere while Dr. Green operates throughout most of south and north Alberta.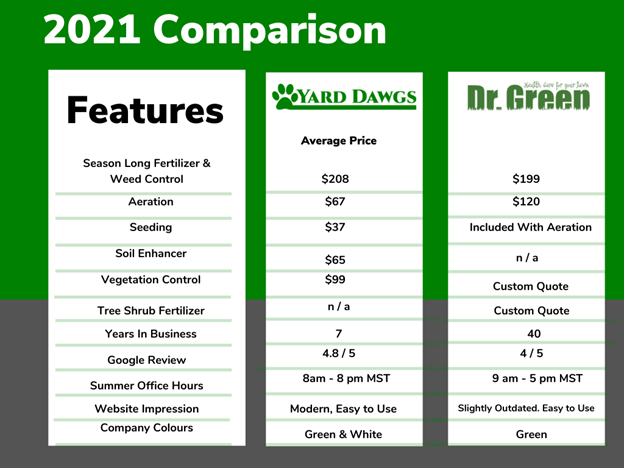 The Local One-Man-Show Companies
Most people hop to the local classifieds such as Kijiji and Facebook marketplace hoping to find a deal. In many cases people will find products and services for a more affordable rate than hiring a company. These savings can come a drastic cost. Whenever you hire a smaller company that operates out of their home and as owner operators, you are trading price for lower experience and unreliability. There is absolutely nothing wrong with people keeping their business small, but our market is based on the principal of "buyer's beware" which means it's on the customer to check for:
Proper Insurance & Liability
Service guarantees
Client testimonials
Previous work experience


What's the cost of a company applying too much fertilizer and burning your lawn? Checkout this blog to find out. If they don't have the capacity to fix it on insure it, it would be your loss. Yard Dawgs, for example, will be more expensive to hire for having beautiful grass compared to a one man show company because before a technician completes a job they go through:
Two full weeks of training for each employee
Full licenses, registration and insurance
Safety program
Criminal background checks
The larger companies have reduced the purchasing risk and it's reflected in their price. That being said however, the price often isn't dramatically different.
The Yard Dawgs Difference
If it's true that having incredible workmanship, customer service and being fully client focused is the minimum standard to stay alive in business during 2021, then how can a company truly get ahead?
One big difference we believe does truly make us difference is our focus on long term relationships. When you call in, our sales people aren't motivated by making the sale, rather they are focused on starting things off on the right foot by ensuring your truly are being matched with the right package for your needs. We reward our team based on yearly customers retained because we believe that if you hire us in 2020 and you choose a different company in 2021, we have failed you. With the end in mind, we start every sale but truly diagnosing what lawn program you need. If we mislead you to buying something you don't need, we won't get away with it because you don't be happy with the outcome and you won't return the following year. That's a recipe for a lose-lose relationship. If we focus on you being extremely happy with your lawn, you will come back next year and tell your friends.
That's a win-win!
We want a long term business relationship with you.
Of course, if you only need our services for one year, that is completely fine! There are several reasons for that but our focus is to ensure you get the lawn care results you're looking for and the price point you can afford. We understand that you're coming to us so that you can better enjoy your summer. You don't want headaches, you want questions answered, and you want to see the results in your lawn. We guarantee you lawn will be weed free by the end of your package or your next service is on us. We aren't going anywhere, and are proud to be a local choice in Calgary for lawn care. Give us a shot this season and we'll help you have the best lawn you've ever had. We'll help you rediscover the beauty in your yard.
Hi, I'm James Szojka
James is an lawn care blogger and thought leader in the business community. He resides in Calgary and is a thought leader in the lawn care business.
Popular Posts
Blog: 3 New Modern Landscape Ideas That You Didn't Know About [+ Where To Buy Them]

Blog: How Much Should I Water My Lawn in Calgary? [Spring, Summer and Fall]

Best watering practices should always be specific to the region you are living in. If you are living in the Calgary, Alberta region, you have..

Blog: How To Get Rid of Grassy Weeds in Canada [Tips That Actually Work]

Have you ever mowed your lawn and then look back a couple days later only to notice that some grass appears to grow faster than the rest of the..

Blog: Yard Dawgs Lawn Care vs. The Competitors [An Unbias Comparison]

These days, everyone says they have the best customer service, unmatched quality of work, and focus entirely on the customer. Nowadays, this..

Blog: How Do The Big 5 Lawn Care Companies Compare in Calgary?

Every year when spring rolls around, thousands of Calgarians need to find a provider to take care of their lawns. We estimate that over 75,000..