Power Raking
Services in Calgary
---
At Yard Dawgs, we have always believed that strong foundations develop healthy growth. Our power raking service is in high-demand because it involves establishing a strong foundation for your yard.
By removing dead debris, crust, and unhealthy turf, your grass will be set-up to be healthy all season. We have set the standard with our power raking services, having power raked more than 2,500 lawns in the Calgary area. Our customers are thankful for our accurate and efficient service.
Our quality of service and our friendly detailed approach are why we are recognized throughout the industry. We pride ourselves on our work, our open approach and our educational nature. Get started with power raking today!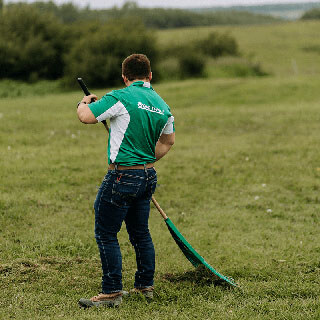 Upgrade Your Lawn Care
With Power Raking in Calgary
---
Winter can be detrimental to the health and growth of your lawn but, our power raking can get it back on track. We don't just 'rake' your yard; we have a detailed process so that you get the best service possible.
First, we assess the condition of your lawn before setting the height configuration for our motorized mower. We will go over each area of your yard and will remove all dead grass and debris. After that, we will hand rake the thatch into piles and bag them accordingly before mowing the lawn to give it a smooth, clean finish.
Power raking will give your lawn a smoother, healthier surface, preparing it for other beneficial lawn care services, such as core aeration and fertilizing. Get the complete package from Yard Dawgs!
Choose Your Lawn Package, Designed For You
---
Prices listed above do not include GST and are priced for lawns up to 1000 square feet. Lawns that are larger are subject to additional charges.
We're committed to ensuring you're pleased with your lawn. We'll do what it takes to make you happy, whether that means fixing your problem or giving you a full refund.
Professional
You can count on our approach to lawn care to be extremely professional. We let you know before we arrive, and you'll always know when we've come — not only will your lawn look great, but we also leave behind a brochure explaining what we've done.
Caring
As your friendly neighbourhood Yard Dawgs, we strive to build a loyal and lasting relationships with our clients. We are extremely attentive and caring, and we genuinely care about your lawn. We believe in going above and beyond to deliver quality every time.
Versatile
We have four convenient packages available for you to choose from, but, if you require additional services, let us know, and we'll do our best to accommodate. Regardless of the size of your lawn or the state of your grass, we'll do a doggone good job!
Reliable
From getting the job done without compromising quality to being fully licensed and insured, we maintain a commitment to being the lawn care company you can count on. We always show up when we say we will with a prompt response to any inquiry.
Testimonials
"Yard Dawgs did a fantastic job on my lawn care this past summer. My yard never looked better! Plus their prices are very competitive and their customer service is absolutely the best-it really makes them stand out from other lawn care companies in Calgary. Highly recommend!!"
"From the time we asked for a quote till the work was finished by Yard Dawgs it was seamless with respect to communication and speed. We are happy with the work done and it was completed very quickly as well. We would surely recommend Yard Dawgs to anyone."
"These guys are awesome! super nice, professional, great pricing and amazing work. They have been doing a lot of work in my neighbourhood and making our property values go up!"
"Yard Dawgs is an exceptional company with quality service. My lawn was in desperate need of TLC and Yard Dawgs provides just that all summer long (for one price!). Looking forward to next year!"
The best time of year to power rake in Calgary is between the middle of April towards the end of May. However, it will depend on the weather, so make sure you check ahead before booking an appointment.
Our machines are designed to bring up unhealthy grass while not damaging the lawn in the process. Our technicians are well trained with our devices, so you can expect perfect results.
Our power raking service also includes a lawn mow and trim with every visit. Only then will you experience and see the true benefits of a power rake.
The Benefits of
Power Raking in Calgary
---
Power raking is an excellent way to remove dead grass, debris, crust, and thatching that has piled up in your lawn throughout winter. Unlike de-thatching or mowing, power raking is a gentler way to remove unwanted debris on your grass, giving it a new life in the spring. Power raking prepares your lawn for fertilization, weed control, and more.
At Yard Dawgs, we will provide you with a detailed breakdown of our process. We are professional, formal, and unlike some corporate lawn care and lawn fertilizer companies, we are committed to our customers. We are attentive to each customer's needs while remaining competitively priced.
Experience the benefits of power raking in Calgary by making an appointment this season with Yard Dawgs.