Hiring Guide: How To Properly Hire A Contractor For Any Job (7 Key Tips)
We've all been spending a lot more time at home recently with the events of Covid-19 circulating around our world. This increased time around the house has been both a relief and an added stress to many people. With less time and money being spent away from home, millions of homeowners across North America have started to notice things around their house that weren't as apparent before the pandemic. You've started to notice the shed's roof leaks, you've realized your bathroom is horribly outdated, and you've taken on the challenge of making your lawn the nicest one on the block. You're not alone, Market Watch shows here that many spending habits have changed to focus more on products and services at home since people aren't spending money on traveling and away from home experiences. While many people have resorted to DIY projects, many people have turned to local service companies and contractors to help them get the job done right to save them time, headaches, and often money in the long run.
If you're starting to notice the odd jobs around the house that need tending two and don't really have the time or skills to get it done, this guide is for you. This page is dedicated to help you understand how to reach out to service companies to effectively communicate your needs, open the floor to getting ideas and suggestions, how to get the best quote possible, and how to make sure the company your decide to purchase from is honest and experienced in everything they do. The one thing that nobody wants is to have to hire a different company if the first one doesn't work out. That's why
"You can't afford to hire the wrong company"
The cost of fixing poorly done work often outweighs the price of doing it right the first time. If you're going to hire a company, you need to know your quote is fair and that they're the right fit for you. The internet has given us the tool to compare one company to many of its competitors. This guide will demonstrate a foolproof 7 of the best tips when hiring a company.
1. Always Do A Local Google Search First
A home service must be done at your home. You don't want to be nailed with "travel fees" or anything related to a company having to increase your service price based on your location. To ensure you're prospecting a company that is local take it to your favorite search engine and type in the service you're looking for with the words "near me" or "your city name" at the end of the search inquiry. For example, if you're trying to find a great window washing company, some examples of search engine submissions would be:
You get the idea. From here, there are three main sections to pay attention to:
1. Google Search Ads
All these companies pay to advertise here. We generally don't recommend clicking here unless the ad titles are directly related to your search term or you find the company you are looking for. Google Ads can still show you a reliable and good company, but typically you will have a better chance with a company that ranks higher organically as they have a better reputation and track record. As you can see in the picture below there are three companies advertising in the search ads.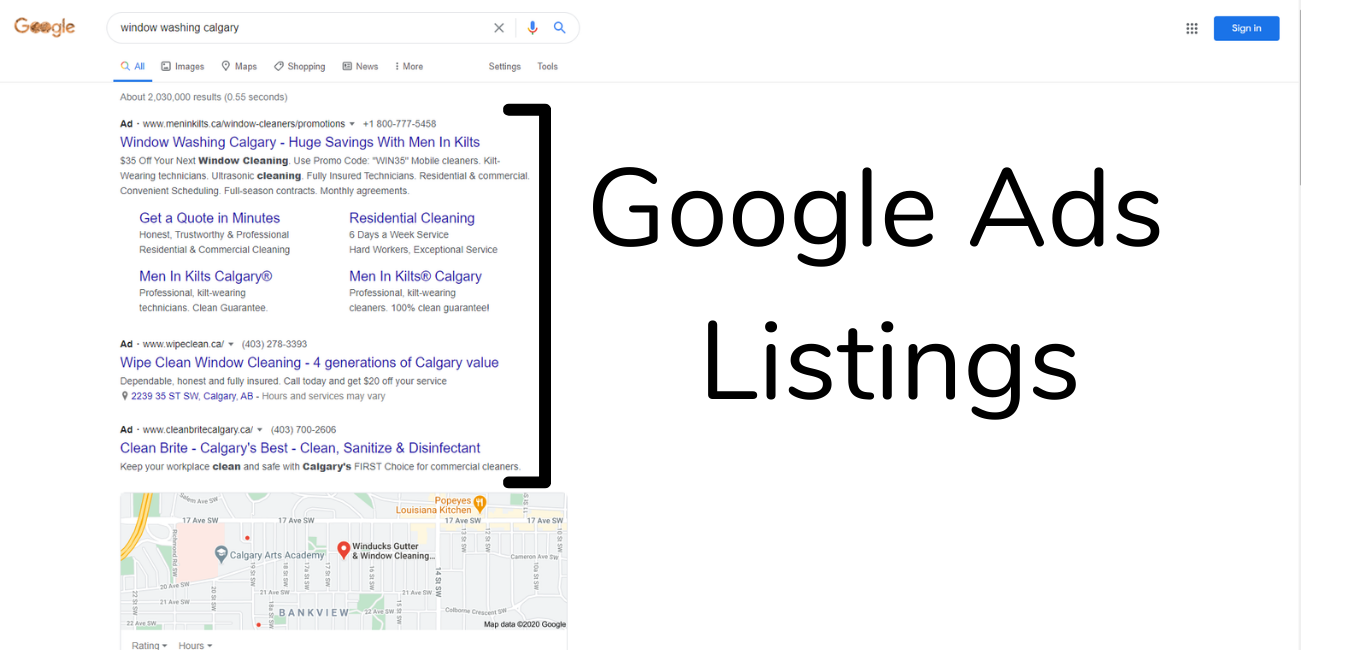 2. Google Map 3-Pack
This is the second best area to find a service company. Google will list the three companies that are most relevant to your search. Typically it's based on distance and on reviews. So if you are in SW Calgary they likely won't show you a company near the Airport, even if that company has great reviews. This is a good spot to choose a company, and you can directly see the reviews compared to other companies. This search on maps is highly relevant for restaurants nearby, but is good for businesses as well. As you can see here also, there are three companies in the Google Map 3 pack, these companies show up here based on distance to you and the reviews they have.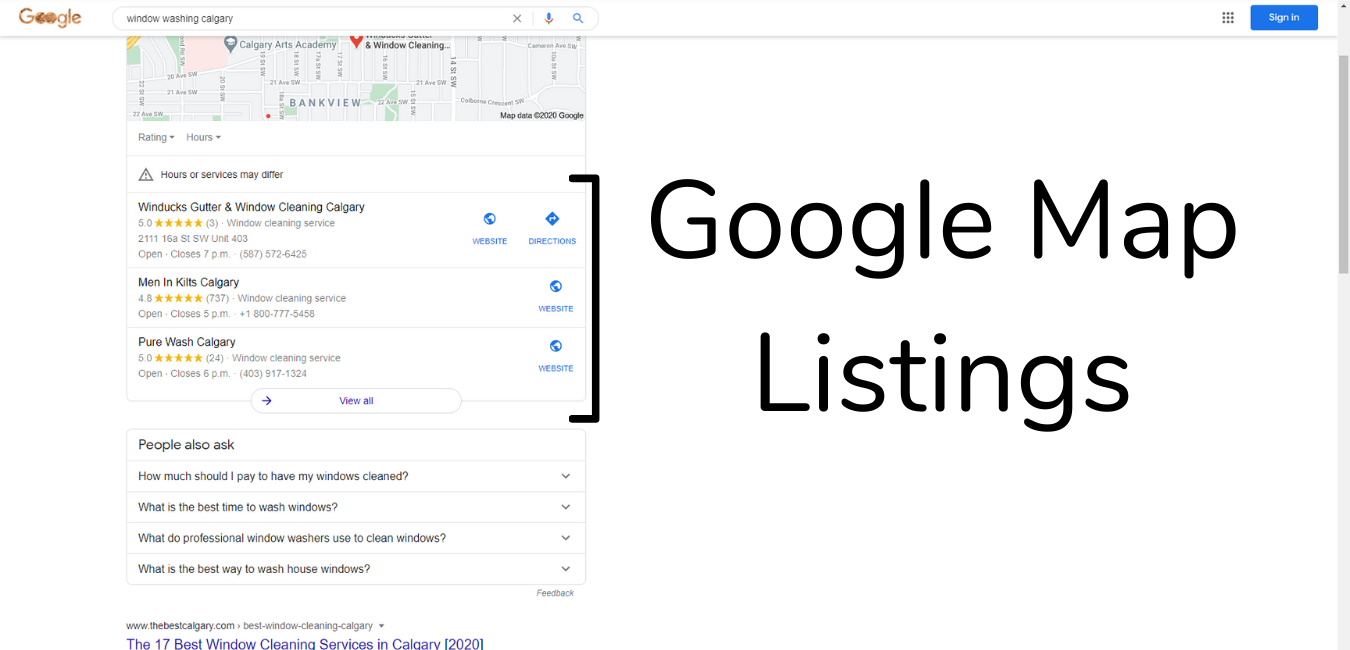 3. Google Organic Results
This is the best spot to find a company. This is the organic search listing, the companies at the top are the most reputable and are most often the best companies based on the Google algorithm. Any company on the first page is a solid option, we suggest to look through 3-5 different websites, submit a quote and see which company best suits your needs. Sometimes there may be a blog that comes up in these results, just like the example below, they usually have good insight into what company to recommend.
2. Make Sure To Read The Companies Reviews [Both The Good and Bad Ones]
In today's internet world, there are plenty of ways for companies to showcase their reviews on their website, blogs, google search result, and on third party websites. Unfortunately, fake reviews are a thing we need to be concerned about. A credible review is one which includes:
The full name of the reviewer (or first name in a last initial)
The date of the review was made within the past 12 months
Showing that the person leaving the review is a verified purchaser OR that they have made other review contributions to other companies in the past
Has a detailed explanation review that's simple and makes sense with good grammar
Any review that breaks these rules, may be fake, paid for, or just not credible. Good companies get bad reviews all the time from fake accounts or people who just want to make a company look bad for no strong reason at all. You want the company you're looking into to have at least 80% positive reviews from the past experiences of other customers. It's okay for them to have a bad review, but it's important that you can see that the company has responded to the review professionality and reasonably. Checkout this blog that shows the tell tale signs of a bad review and how to spot one.
3. More Pictures Then Words On The Website
Any company can brag on and on about how great they are. If it's true that a picture says a thousand words, then a real "before and after" photo, or something of the like, shows real experiences of their work being showcased. A company's website is a great place they should show off their work to you, the potential buyer. Anyone can talk and good talk but showing real life pictures of workmanship is walking the walk.
4. Client Testimonials and Case Studies of Past Work
The difference between these and reviews are how in depth they go. A review may just be a quick rating with a brief explanation, but a client testimonial is a full length case study about how Jane Doe had problem X and how company Y solved it. It shows details which may include pictures, pricing, timelines and nitty gritty details about how the job got done. Client testimonials aren't easy to make so when a company puts in the effort to share them, don't take it lightly! The company Urban Painters does a great job of this on their homepage with before and after sliders.
5. Make Sure You Talk To At Least 3 Companies To Get Quotes
The reality is that you have options. There are few services that can only be done by one company. We live in an competitive market where many companies are trying their best to be the best option for you. You might as well have two or three companies compete for your business since they all want it. Ask for a free quote during the sales process whether it's online or over the phone. A quote should be expressed verbally and provided over email if you require it. Depending on the complexity of the service, a quote should be delivered between instantly to 72 hours. Read our blog here on how to hire companies and the process of getting three quotes.
6. Look Further Then Just The Price
It's not about finding the cheapest company. Price is very important, but honest companies allow their prices to be a reflection of quality. Being value conscious, it's important to find the highest quality at the lowest price, but there's a difference between a bag of Doritoes and a New York Striploin. If a price seems too good to be true, it is. A company will price their services based on availability, demand, competitive options, and experience. Don't fall for the temptation of finding the cheapest option, instead really push for value. It's okay to pay more for experience, warranties, and guarantees because when a project goes wrong, it goes very wrong. Getting more than one quote will help you determine if your quotes are fair and reasonable.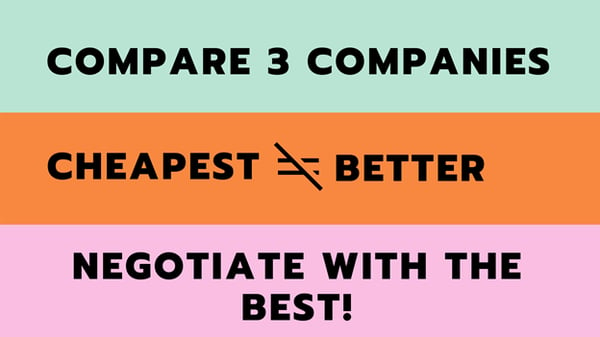 7. Ask Them The Tough Questions
You as the customer have the right to ask any question you believe is important to help you make a purchasing decision. There's no such thing as a dumb question if it's genuine. Asking the company you're looking into tough questions helps you gauge their experience and competence. How they answer is just as important as what the answer was. If they stutter and act like they're hiding a more transparent answer, let that be a red flag. If you have a list of "what ifs" that are concerning you, bring them up and let them help you find ease. You want to be confident with the purchase you're making and the right company wants you to feel amazing about your experience with them. Ask away and make sure you're completely satisfied with the answers you receive.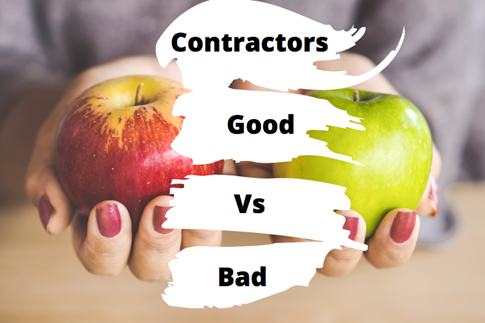 What Else Can You Do To Make Sure You Make The Right Choice?
Now that you know what general steps to take when considering a home service hire, it's important to educate yourself on at least a beginner level to better understand the service you're about to hire. By avoiding being a chicken with its head cut off, you will avoid the consequences of over paying for a service, being hit with "hidden costs", having poor quality work done, and being left with the feeling of buyers remorse. When it comes to market research, consider taking the following steps:
1. Ask Your Friends and Family Who They Would Recommend
Why be the first one to try a company when your brother-in-law has already had a great experience with a similar company? It's worth asking your family, friends, neighbor, or Facebook community for their recommendations and experiences with local home service providers. If they truly have nothing to gain, they will share the good, the bad and the ugly of their past experiences because they care about you. Make sure you really trust those who are bias with their answer (they own a company in the same industry).
2. Checkout Three Different Websites of Competitors
A simple, well informed, transparent, and beautifully designed website shows that a company cares about your experience. If they value your business, they would have invested in a great first impression. With basic website creating tools available, there's no excuse for having a poorly made website. A strong website is:
Easy to navigate
Gives you the information you need, quickly
Is pleasant to browse and educates you
Provides next steps and calls to action if you're serious about doing business
If you love the way a company is displayed, don't be sold quite yet; looks can be deceiving. Consider checking out the websites and service offerings of two other competitors just to make sure what you read the first time is consistent, and you can see other options that may have not been presented yet.
3. Look Into Third Party Screening Websites
There are websites out there such as Facebook, Top Choice and Homestars which list service providers that have been screened, vetted, and have done extensive research to make sure the company is one which is legit. Reviews cannot be "faked" on these platforms and they will often have a quality score rating associated with their profiles. Their listings are paid for, but they cannot pay for reviews or anything that alters their reputation on these websites which help build the creditability.
4. Ensure You Are Getting A Quote and Not an Estimate
A quote is a firm price for a service while a estimate is a price that may or may not be accurate. It's an educated guess. Yes, there are some things that are impossible to quote over the phone without physically being present at the site. However, if a firm quote is possible, do your best to get it so you have a clear idea of the costs. Ask if there are any fees or additional costs that may arise in addition to the quote. Some companies like furnace cleaning companies will add an environment fee to your invoice even though it wasn't in the quote. If you want to make the best decision possible you need to be on the same page when it comes to pricing.
5. If They Ask For A Deposit, Make Sure There Is A Contract In Place
It's quite common for a company to request a deposit, usually up to 50% before the job begins. Don't be alarmed if that's the case, its very common especially for jobs over $5,000. The company needs money to cover their cash flow to purchase materials, pay employees and cover overhead. However, there have been horror stories where a contractor ghosts the customer and never even starts the job after receiving the deposit. Make sure that there is a written contract in place before doing this and make sure it's with a reputable contractor. Refer to this article by Mike Holmes talking about the four red flags with contractors.
6. Avoid Doing Cash Deals To Get A Better Deal
Although there is some advantages to both customer and contractor is cash deals, they are not recommended in general. Reputable and bigger companies usually don't take cash payments, so even though it's unlikely of being screwed over, the chances go up if you get involved in a cash deal. There also isn't any paper trail to prove if a payment was made or not. If the deal is under $1,000 then its generally pretty low risk, it's a high risk if the job is over $10,000 and the contractor demands 50% upfront before starting the job.
Whether you're looking for a company to give you a weed free and golf green turf all season or you're looking for a company to give you spotless and clean windows, we hope this page has informed you on how to be more of an aware purchaser. Using these tips, you'll be able to screen out the "bad guys", learn more about what you're about to take on, and make an educated purchasing decision you can feel good about for the years to come.
Take these suggestions and try them out in a way that seems best for you. It way take a few hires to real nail down this process correctly. If you'd like to see a real life example one how these tips are applied, checkout our article here.