One of the biggest benefits of a thick lawn is the all natural defense it creates against weeds. Every drop of water that goes on your lawn is competed for either by grass or weeds. The thicker your grass, the less chance a weed can steal the nutrients and flourish. We recommend seeding your lawn not only to keep it healthy and rejuvenated, but also to fight back head on with the weeds and set up your lawn to require the least amount of herbicide as possible in order to stay weed free and gorgeous!
Our lawns are living organisms. Like any organic matter there are life cycles to follow. Grass starts from seed, grows into healthy blades, lives for several seasons, multiplies, spreads, and eventually dies. Your lawn is consistently aging, which is why it's critical to add new life to it often. Here at Yard Dawgs, we know this climate well and how to apply grass seed in Calgary. Overseeding applications can restore your lawn. We spread the seed throughout your lawn as well as to dry and bare areas. We only use the highest quality seeds for our valued customers; within a few weeks, your dry spots and bare areas will flourish with life. After our seeding services we provide homeowners with "next steps" to ensure they can work with us to maximize the success of the lawn. We share instruction on how to properly water, mow, and further care for your lawn. Your DIY help along with our professional services is a recipe for the best lawn you've ever had.
How we do it
---
We've done enormous amounts of research to determine When to apply the seed, Which blend of seed has the greatest chance of establishing, and How to apply it to maximize germination. We've created a strong process that shows the Yard Dawgs difference when looking at lawn seeding in Calgary. A successful lawn seeding comes from starting with the best seed, applying it properly and ensuring it has the nutrients to grow. Our Seed is a custom blend unique to Yard Dawgs. It contains primarily Kentucky Blue Grass but is also mixed with some Fiesta Rye Grass and Red Fescue. We invest in the best seed that has technology to work well with Calgary's weather, maximize water absorption, and resist drought and disease.
We only do overseeding in Calgary after an aeration service as been performed. Throwing down great grass seed on top of a non-aerated lawn is a complete waste because the seed must be embedded within soil to germinate. With our St. Bernard and Great Dane package, we include up to 40 sqft worth of additional soil coverage with our overseeding to ensure your patchy areas are well seeded and set up for success. To seed your lawn properly, it must be aerated first. Here's a quick video showing how the two services work well together!
Choose Your Lawn Package, Designed For You
---
Prices listed above do not include GST and are priced for lawns up to 1000 square feet. Lawns that are larger are subject to additional charges.
We're committed to ensuring you're pleased with your lawn. We'll do what it takes to make you happy, whether that means fixing your problem or giving you a full refund.
Professional
You can count on our approach to lawn care to be extremely professional. We let you know before we arrive, and you'll always know when we've come — not only will your lawn look great, but we also leave behind a brochure explaining what we've done.
Caring
As your friendly neighbourhood Yard Dawgs, we strive to build a loyal and lasting relationships with our clients. We are extremely attentive and caring, and we genuinely care about your lawn. We believe in going above and beyond to deliver quality every time.
Versatile
We have four convenient packages available for you to choose from, but, if you require additional services, let us know, and we'll do our best to accommodate. Regardless of the size of your lawn or the state of your grass, we'll do a doggone good job!
Reliable
From getting the job done without compromising quality to being fully licensed and insured, we maintain a commitment to being the lawn care company you can count on. We always show up when we say we will with a prompt response to any inquiry.
Testimonials
"Yard Dawgs did a fantastic job on my lawn care this past summer. My yard never looked better! Plus their prices are very competitive and their customer service is absolutely the best-it really makes them stand out from other lawn care companies in Calgary. Highly recommend!!"
"From the time we asked for a quote till the work was finished by Yard Dawgs it was seamless with respect to communication and speed. We are happy with the work done and it was completed very quickly as well. We would surely recommend Yard Dawgs to anyone."
"These guys are awesome! super nice, professional, great pricing and amazing work. They have been doing a lot of work in my neighbourhood and making our property values go up!"
"Yard Dawgs is an exceptional company with quality service. My lawn was in desperate need of TLC and Yard Dawgs provides just that all summer long (for one price!). Looking forward to next year!"
Depending where we are in the season grass will begin growing from the seeds in 2-3 weeks. You can expect a 50 - 90% germination with our seed.
You want the soil of the newly seeded area to stay moist every day. To ensure the top inch of the lawn is moist, you should water the area with a sprinkler for 30 minutes, twice daily (once in the morning, once at night) until the lawn has grown enough to be mowed for the first time. If a heat wave occurs during this time, increase the watering to 3-4 times per day to ensure the soil stays moist during the extreme heat.
Until the grass has grown long enough to be mowed for the first time.
If we do an aeration and overseed that yields poor growth results, we will first check all of the factors:
- How often were you watering?
- Did any pets, children, or wild life disrupt the physical conditions of the seed?
- Is there a deeper problem at hand, such has poor soil conditions or extreme weather?
We will work with you to find the solution and if needed we will seed and soil the area again free of charge. We want your lawn to achieve great success with our programs and will stick through it with you.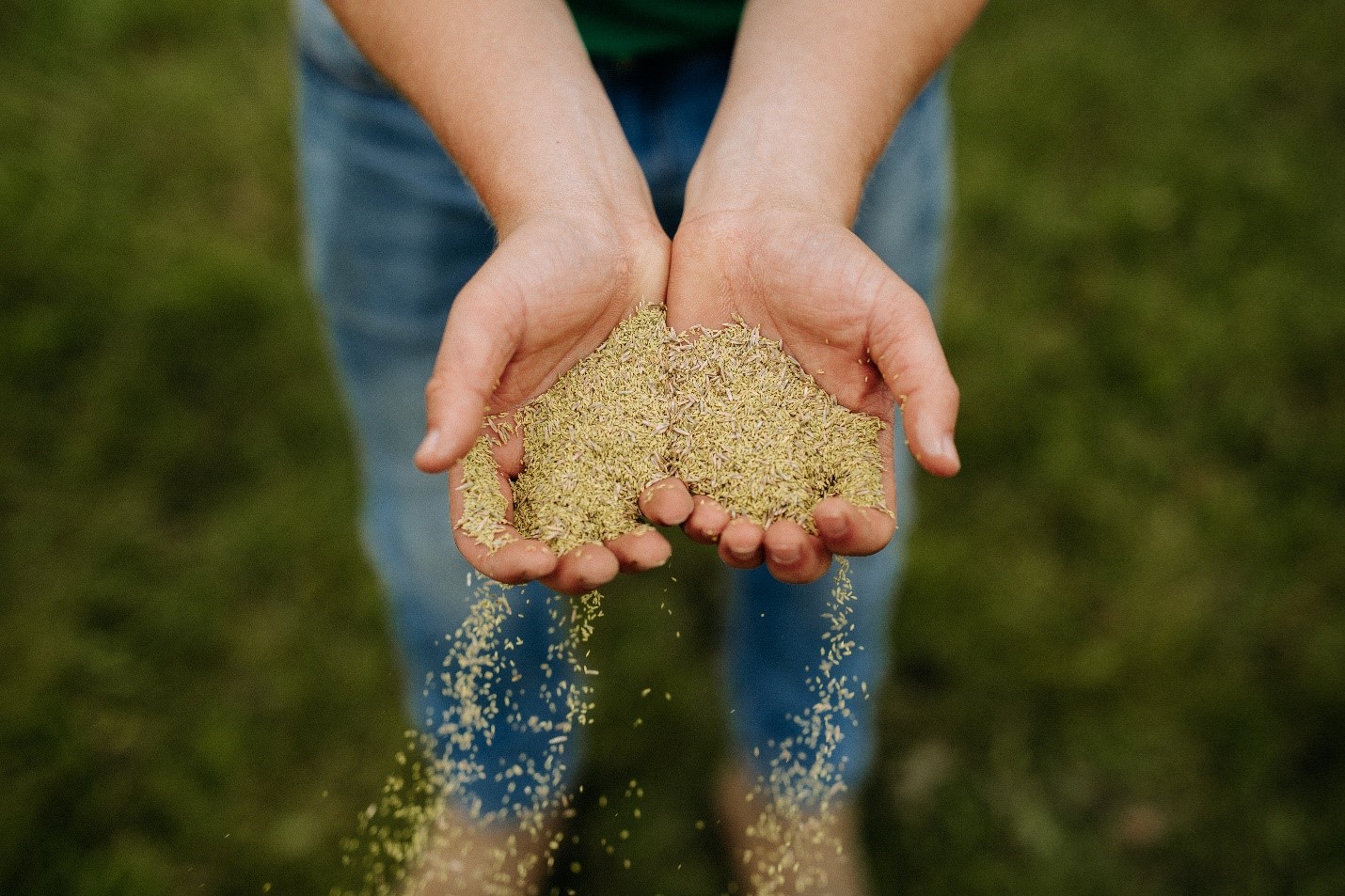 The Benefits of Overseeding
---
Thicker turf to choke out weeds and enhance beauty
Rejuvenation from the soil up for a beautiful appearance
Less watering required as young grass requires less than old
Increased resistance to environmental factors
A denser lawn is less attractive to wild rodents and other pests